Do you know using a fictional character in your social media can reinforce your marketing?
As social media marketing nowadays are evolving more and more, some ace brands are taking the voice of their company to the next level by featuring fictional characters & mascots in their Twitter, Facebook & other social media profiles. But how would you determine if a social media character is apt for your brand?
Here we are decoding this buzzing social media marketing trick for you.
At which Position a Social Media Character Work:
Well, social media characters often work when a trademark already has got a mascot. For example, the renowned brand Nestle has a popular mascot named "Nesquick Bunny", which has been selling nestle products for decades. Also, Mr. Peanut, of Planters', is a perfect example of the use of fictional characters in branding.
The character has its own dedicated Facebook page having 681,578 fan following. All its updates receive hundreds of likes as well as comments which not just boost traffic but drive sales too.
It is also a good option to target kids and children with a social media character. Kids of all ages love cartoons. When it comes for a product, like snacks or something, cartoons or other fictional characters work best for selling such products. Not just kids but viewers between the age of 25 and 44 also have appreciation for cartoons or mascots.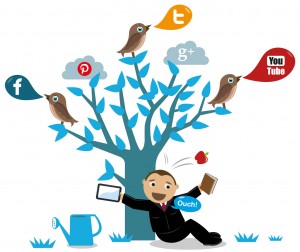 A playful and humorous voice of mascots adds to the popularity of brands.
When Social Media Mascots Won't Work:
While dealing with sad, serious or a dramatic brand, a kooky character is really not a good idea. For instance, if there is a company that deals with funeral products or a helpline dealing with domestic violence or abuse, it can be really challenging to make a social media mascot or character that attractive. So, when you find doubtful, avoid implementing a mascot to represent your brand.
Ask yourself, Is It Right for You?
If you're still in dilemma regarding whether or not to create a social media character in your branding strategy, below are a few questions to ask yourself:
Does your Brand already have a Mascot?
If yes, it only makes sense to using this mascot in your social media profile. As your audience is already acquaintance with this character, so a social avatar of this character could add zing, voice & personal touch to your brand's social channels.
What's the age of your Target Customers?
Consider the age of your audience. If they are young, a social character would definitely drive them crazy.
How would you categorize your Brand's Voice?
Well, if you put humor and playfulness in it, then a mascot may be the exact option for you. However, if your brand deals with something serious concerns or products related to funeral or something, think carefully before hopping on a social media character.
If you want to have a trial, then create a mascot and let this character campaign for a contest surrounding your brand.
Post regarding the contest and have the mascot endorse it as well. Now examine the results. If it results in heavier engagement, then it might be a sensible choice to incorporate a brand mascot on your company's social media channels.