FAQs: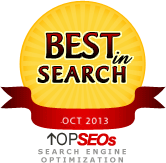 1. What is SEO?
SEO or Search Engine Optimization is the technique employed to increase website ranking on search engines. It involves making changes so as to make websites search engine friendly. Once done as part of a continuous process can ensure that a website becomes much more visible on the web and thereby can lead to increase in website traffic.
2. How is search optimization used in business?
Print and electronic advertising have now lost their predominant position as a sales driving medium. All over the world, across every industry vertical market, customers are getting increasingly comfortable with the use of Internet for gathering information—before and even after— a purchase. SEO helps harness the true potential of Internet by ensuring that your business model remains visible when customers look for related products or services. Due to its role as marketing force multiplier, optimizing websites for better search engine visibility, today is considered one of the most powerful business tools.
3. When should my website be optimized?
Ideally, the search engine optimization (SEO) should be brought into the scheme of things even prior to selecting a domain name. However, any website, regardless of its age, size, content or area of operation can be optimized. But, it's better in terms of time and money to apply optimization techniques right from the website design and creation stage.
4. What are keywords?
Keywords can be defined as a word or term that is typed into a search engine while searching for particular information on the Web. They are very important in SEO because the search engine in response to a search query retrieves all the web pages in its index that contain the particular keyword and then comes up with the search results. That is why keywords play the important role of asserting the relevancy of a particular webpage in relation to that particular keyword.
5. How do I identify the right keywords for my business?
Keyword selection warrants that user behavior is understood completely, research should focus on user behavior trend analysis. Identifying the common search terms is the most important step as it can help fine tune business models and marketing plans.
6. How long it takes to get rankings?
After the initial optimization gets completed, the website is submitted to all the major search engines. Once that's done; the time frame required to rank the website can vary from any thing between a week to approximately six weeks. Once the website and its pages get indexed by the search engines, the next important point would be the appearance of it on major keyword searches. This phase would imply that the next cycle of optimization is undertaken. Whereby, the website variables would be fine tuned to ensure that it starts moving up the search engine rankings at a very rapid pace. However, it is pertinent to note here that effective SEO is an ongoing process.
7. What are the main benefits of professionally optimizing my website?
A professionally optimized website acts as a perquisite in attracting substantially higher amounts of targeted traffic. This increase in relevant traffic would ensure a stronger market presence and increase in sales conversion.
8. What if I don't optimize my website?
By not optimizing your website you would be missing out on one of the latest and most effective internet marketing solutions: Search engine marketing. And, if you are serious about doing online business, you just can't afford to ignore the importance of search engine rankings; latest internet usage figures suggest that more than 80% of people looking to buy products and services online do that by searching through the search engines. That's why if your website is not suitably placed on them, you miss out on a very good avenue for free targeted traffic; additionally a strong presence on the search engines can be a great booster to your brand building endeavors.
Interested? Contact Us