ERP Solutions
Enterprise Resource Planning (ERP) is business software that automates and seamlessly integrates the management of information across various levels of an organization including sales, accounting, manufacturing, finance, HR, marketing etc. The ERP application software allows you to get detailed information about your sales & purchases, production, services, materials etc. while allowing you to retain and manage your customers efficiently at the same time. ERP provides you summarized updates retrieved through your entire enterprise network to enable you intelligently analyze your financial profile.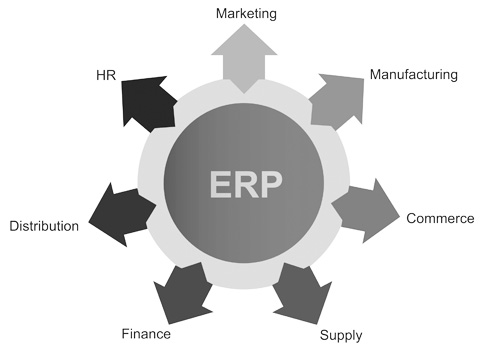 Our customized ERP solutions would offer you the following :
Supply chain management (SCM)
Human resource management (HRM)
Financial management system (FMS)
Customer relationship management (CRM)
Input data in real time
View reports in HTML and Excel formats with filter
Scalable with facility for 3rd party integration
Use friendly and easy to run
Increased returns on investment
Business Value
All your traveling staff, clients and suppliers can access the high end features of our ERP solutions and input data in real time to allow you to quickly adapt to the market changes. It will integrate your processes beyond the confines of your organization by the means of a seamless value chain running across your suppliers and clients. The application software is scalable and user friendly as it provides you operational security and procedural controls.
Functional value
Our enterprise resource planning application software would come with integrated sub-financial systems to offer your solutions beyond the standard financial accounting.
Customized reports : Get cash flow, balance sheet, trial balance and other on the fly reports in HTML and Excel formats. You can also filter them and view entries with a particular search criteria. You can also export them to your email and print the same.
Technical Advantage
Our ERP solutions are developed to be portable and scalable to meet the demand of your growing business. It would be RFID compatible and follow multiple checks and bounds to ensure the integrity of your crucial business data. It would have several flexible security levels and access control mechanism to ensure that only the authorized persons have access to your crucial data.
Data validation: The ERP would carry out extensive data validation checks and guide the user with appropriate warnings to ensure that only correct data is input into it.
3rd party integration: You will have the option to add new customized modules to your existing ERP should the need arise for the same in future.
Contact us today to get new market insights with the help of our easy to run ERP application software
Interested? Contact Us