News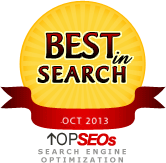 SEO services: Is it worth the money you pay?
Search engine optimization (SEO) is definitely one of the most talked about off shoots of the IT boom. SEO services are the buzz word across board rooms; but still many of the interested companies are not convinced, why?
To understand the reason behind the above mentioned dilemma, we have to first understand the DNA of Search engine optimization (SEO), with a special emphasis on the SEO services and its importance.
The logic behind SEO
With the advent of search engines like Google, Yahoo and MSN; there has been a radical shift in the way people search for products and services online. Recent estimates suggest that 80% of people use search engines to find products and services based on their liking.
How does it work?
That's why if your website is not amongst the top 20 search results then it might be possible that your target audience won't ever find you. Get the point?
It's particularly important when it comes to e-commerce websites, that's because they focus on selling specific products online and to ensure that your target audiences know that you too sell the (searched for) product, you have to be visible on the search engines.
Welcome to the world of search engine optimization; as SEO can deliver just that. By taking into consideration the SEO aspects of your website, you can ensure that your website is visible where it matters most!
SEO: The name of the game
Search engine optimization (SEO) can be broadly defined as a set of techniques to be employed to enhance the search engine rankings of websites. Although it's not a rocket science but still SEO involves fine-tuning of a websites metrics to make it search engine friendly and visible across the World Wide Web.
That's why SEO can be termed as an amalgamation of technical fine tuning and internet marketing. Companies that offer SEO services generally will do this for your website:
Keyword Research: Identification of the commonly used search terms/ phrases as per your industry.
Content optimization : Content is the visible text of your web pages. Optimizing it would involve strategically inserting keywords to make the pages relevant for that particular term and concurrently enhancing the appeal of the page in the eyes of the readers.
Title and Meta tag optimization: Tags are in coding language and meant for the search engine spiders. They read through them to know what a particular page is all about. Optimizing them would ensure that your pages are seen as relevant for a particular term by the search engines.
Link building : In simple terms link building can be termed as networking within your own community. The more the links pointing your website higher would be your websites relevancy.
And the end result:
If you think that SEO is like a magic genie then definitely it's not your cup of tea. Why this statement is being made because, your expectations with SEO as service will determine whether you find it a value for money proposition or not.
SEO is something which is a gradual and ongoing process. You can't expect instant results, with most cases, it will take time and you have to be patient. However, this time lag is a variable and depends on a number of factors like:
Present level of optimization
Age of domain
Competition
And many more
So Finally!
Search engine optimization (SEO) can be termed as the most important pill the doctor prescribed for enhanced online presence. It is a service that can't be done away with today's search engine driven online market place; especially if your company is depending heavily on Internet for future growth.
And surely the new era has dawned as more and more companies are vying for those very few top search engine rankings. Now it's up to you whether you want to take the early mover advantage by applying SEO now or later be teamed up with all those who missed the bus.
The call is yours…after all you know where you want to be!
Interested? Contact Us