Hire Dedicated SEO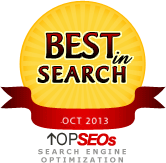 Search Engine Optimization or SEO includes a set of activities that are done by the webmasters to make your website return more prominently in search engine result pages (SERPs) of spider based search engines like Google, Bing, Yahoo, Alta Vista etc. The webmasters achieve their results by optimizing the visible content, underlying code and architecture of your website. However, search engines constantly change their algorithms in sync with the user preference and other marketing dynamics, and we at iSearch Solution keep an informed watch on these algorithmic shifts of search engines.
Our Professional SEO experts analyze the dynamics of these algorithmic shifts and also the on-site and off-site forces that have a direct or indirect bearing on the performance of your website. We then put our understanding and insight into action to keep your site prominently visible, relevant and in top positions of search engine results. We constantly improvise on our tactics and methodologies to keep in sync with the changing algorithms of search engines like Google, Bing, Yahoo etc.
Audits for enhanced performance of website
Your dedicated SEO will first of all develop full understanding of your website to understand its architecture and friendliness both from the perspective of the end user and the search engine as both of
them interact with it on a regular basis. Website audits are basically of two types:.
Technical audit: It is done to remove the problems related to technicalities of the website like broken links, long loading time of the site, difficult navigation etc.
Performance Audit:
This is done to identify the limitations that have direct bearing on your website to perform well in organic search results. This includes analysis of keyword density, content presentation, color themes etc. Actionable recommendations are made to enhance the overall appeal and user friendliness of your site that will help attract more visitors to your site.
Electronic Press Release (ePR)
ePR, also known as electronic PR or digital PR is actually a newsworthy press release that is distributed to new aggregators like PR Newswire, MarketWire etc. to leverage the impact of electronic media. Your dedicated SEO expert will manage all PR related efforts for your website including its seeding on social media through network sharing, tweets and updates. We will write and optimize press release of your company for its news worthiness and also syndicate it for RSS feeds.
Our tactics work!
We understand that search engines like Google, Bing and Yahoo will give prominence and higher page ranks to your website only when internet users like it. So, we at iSearch Solution employ tactics to make your website user friendly by enhancing the overall user experience. SEO is actually a long term investment on the part of businesses and our tactics are devised to provide you a sustainable source of qualified traffic for the long run.
You can hire dedicated SEO expert from iSearch Solution who will perform a range of activities on your website to position it in top search results including the following:
Keyword research and optimization
Content enrichment
Digital assets creation
Search engine submissions
Social search strategy
Detecting malware and fixing the crawling errors
On-site and off-site optimization
Technical and architectural audit of the website for higher conversion
Title and meta tag optimization
Social bookmarking and forum postings
Google Analytics and site traffic reports
Cross channel marketing
Hiring a dedicated SEO expert would mean that your website is monitored all the times by an expert who knows all the ins and outs of your site and business. Our dedicated SEO would take corrective measures in good time to keep your website rank higher in organic search results so that you can maximize your ROI. You can even hire a virtual team of SEO experts that will work as per your guidelines with focused priorities and set deadlines.
Talk to an iSearch Executive now to hire your dedicated SEO. Your dedicated SEO will be available to you on IM, Phone and Emails.
Interested? Contact Us