iSearch Solution listed in SiliconIndia's Top 25 Web Design & Development Companies
SiliconIndia's Top 25 Web Design & Development Companies Directory is based on a survey and is designed to be a helpful resource for those who research for or assess vendors in the web apps market. The editorial team of the journal evaluated over thousand web design & development businesses and selected the top 25 to be profiled in this directory that will give the readers as well as potential clients a comprehensive understanding of what technologies are accessible that are right for them & how they pull their socks up against the competition.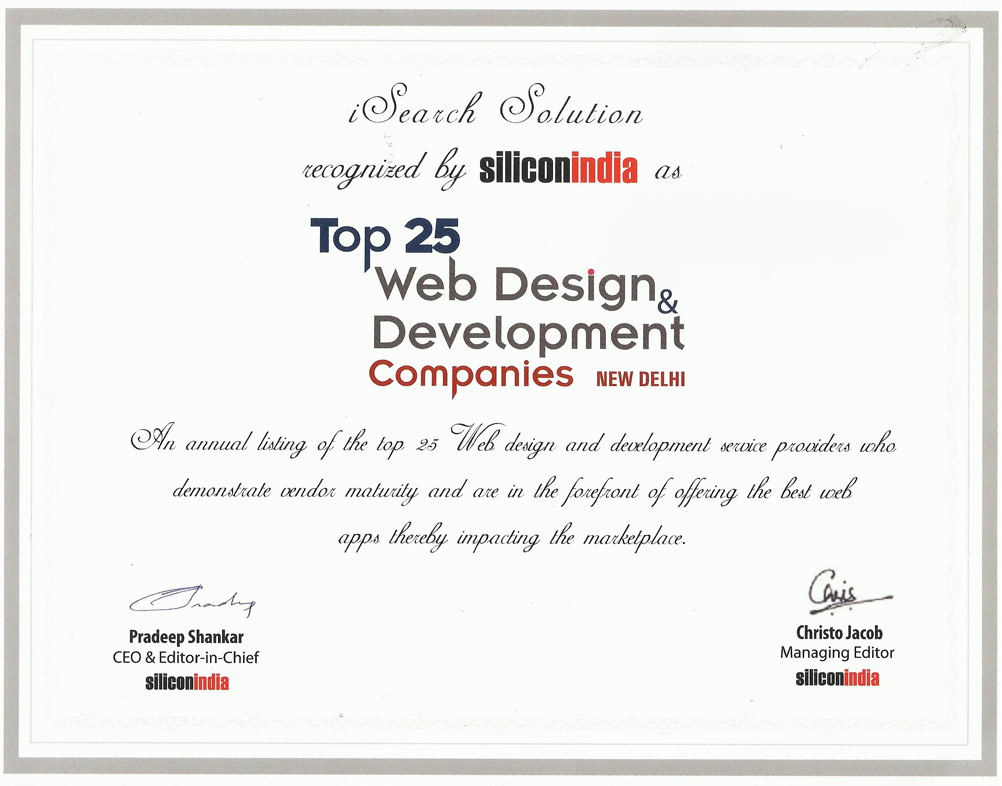 "The importance of being placed amongst the top 25 web design & development companies is really one of the milestones we achieved in recent year," says Deelip Kumar, CEO of iSearch Solution. "The SiliconIndia magazine is read by a massive number of professionals and business persons in the area and serves as an excellent marketing tool for greater exposure. The magazine gives us recognition when someone is searching for businesses in this domain," he says.
Through its successful years of operation & services to more than 100 renowned clients, iSearch Solution has persistently focused on work resulting in cost saving together with more responsive marketing capabilities. One of the leading providers of websites for small to mid-sized organizations, iSearch Solution plunges into each project by singling out what objectives must be met for the client to ponder the website an accomplishment.
Being listed amongst Top 25 web design and development companies in New Delhi, by SiliconIndia, signals that the company's constant efforts towards business excellence are paying off.
iSearch Solution offers a complete suite of services that enable organizations to better feature & promote their products & services online, with brand development & rebranding, website design and development, and online marketing. With the help of its cutting-edge technology, businesses can market their products and services more effectively, extend their client base, & bring in traffic & leads that will step up their business grow and succeed.